Ya gotta love typos! Hello everyone! Let me start by saying I am a proud member of the typo club. The Lord has seen fit to bless me with "hot dog fingers" and I have been accused, on more than one occasion, of typing with my toes. LOL. With that being said, I was reading through some of the awesome comments left for me at 4shared regarding some of my other qps when I came across this one by iceprincess_FL: "Stunning! Suck a treat! Thank you very much!"
LMBO! I have no idea why I find that so funny but I laughed for about 30 minutes after reading it! I told my daughter about it and now she just looks at me from across the room and lips "suck a treat" and I'm rolling all over again! I love it!
Anyway, Thank you iceprincess_FL for all of the beautiful comments you've left for me!! I really do enjoy them! I'm thrilled you like my work!
Okay, today I want to tell you about one of the designers that I am a proud CT member for. Let's start with Boo from
BooLand Designs
. She has many beautiful kits and has just released the first part of her "
Birthstone Collection Mega Kits
." These are so cool! Here is a preview.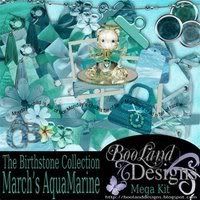 You can purchase these kits at
Do it Digi
. Right now Boo is having a special offer on her Birthstone kits! Buy two complete kits and get the third absolutely free!
She has also been kind enough to offer
free samples
of all three kits! Check these out!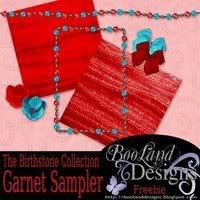 You can snag her
Garnet
,
Amethyst
and
AquaMarine
samplers on her blog
here
.
She has also just released her beautiful and richly colored "
Mocha Valentine
" kit!!
And yes, she has made us a
free sampler
for this one too!! Thank you Boo!! Suck a treat! LMBO! Here's the previews.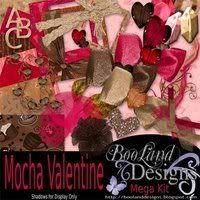 Didn't I tell ya!? Awesome stuff!
You can purchase the kit
here
and once again, head on over to her
blog
for the
free sampler
!
While your there, Make sure you check out her other kits! You'll be glad you did!! And don't forget to leave her some love!!
Well, thats all for now! I'll be back soon with more QPs for ya so don't forget to check back (K)
God Bless Ya!
CC