Hi everyone,
I have been sooooo busy and probably will be for the next few weeks so I'm going to just jump right into it today. I want to tell you all about the other designer I CT for. That would be the very talented
Netta
of
Creative Victorian Designs
!! She has so many awesome kits and they're all
free
! Yep, free!! Netta is actually the reason I started making QPs. I saw her designs and just HAD to have them...all!! You can see all of the pages I've done for her in the slide-show to the left. As luck would have it, Netta has just launched the first part of her new kit "
Inherit
Blessings
" and it is spectacular!! Here's a look at the entire kit.
...........................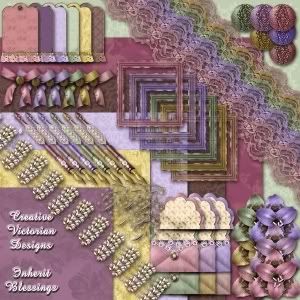 And more...(This kit is huge!)
...........................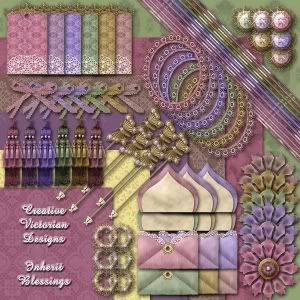 Is that not gorgeous?!! You really must visit her blog to see this kit and all the others in more detail! Netta also offers beautiful add-ons to all of her kits! To get them, all you have to do is send her a layout or quick page using her kit and she'll send you the add-on. Yep...that's it!! Here's a look at the "
Inherit Blessings
"
add-on
Simply amazing! All of Nettas kits have an elegant quality to them that is beyond compare! I will be featuring more of her stunning kits here on my blog in future posts! So ladies, head on over
here
to
Creative Victorian Designs
to pick up the first installment of her new kit and snag the others while you're there!! I promise, you'll be glad you did! You can also go
here
to
Victorian Quick Page Parlor
to get the QPs that I and several other of her talented CT members have made using all of her wonderful kits! Remember to leave some love!!
Okay everyone, time for me to "fly up." (That means go to sleep :) I'll be back soon! Til then, God Bless You!
CC