Hi everyone, I have some exciting news for you today!
Carolyn
of "
Scrap N Tag
" is opening her own shop! And if that's not exciting enough for you then let me tell you some more great news!
Netta
of "
Creative Victorian Designs
" has decided to join her! Now we can get all of the beautiful kits from both of these awesome designers in one place!

The Scrap N Tag Shop won't have it's Grand Opening until Feb. 1st , but you can take a sneak peek here. The store will have all kinds of cool deals like a "Kit Of The Month." Every month Carolyn will select a kit from the store and offer it to us for only $4.00!! The month of Feb. will be featuring Netta's gorgeous new kit "Victorian Shimmer!" Take a look...



Absolutely gorgeous! Another cool deal is her "Special Of The Week!"once again, Carolyn selects a kit and offers it to us for one week for the low price of just $2.00!! The week of Feb. 1st-9th will be featuring Carolyn's stunning new kit "Girly Girl!" Here it is....
So soft and pretty! And to celebrate
Scrap N Tags
Grand opening, Carolyn is having a HUGE sale for the first week! For the first 3 days, the entire store is
50% off!
(excluding Kit of the month and special of the week) and then it goes down to 25% off for the remainder of the week ...and like any great shop, Carolyn will also be giving away some awesome
freebies
too!! Take a look at these...
........................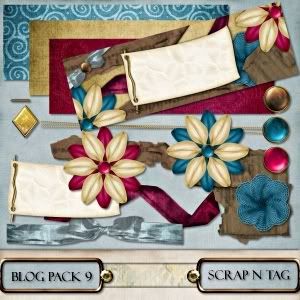 Pretty cool huh?!! Okay guys.....be sure to check it out!! You'll be glad you did!! Oh and one other thing....Netta of "Creative Victorian Designs" is having a CT call! Now is your chance to get all of her store kits free! .....
Her designs are awesome! For more details, visit her at her blog here.
I'm sorry I haven't been able to make you any Brag Book pages recently. I have been super busy. I promise I'll have some for you soon! Til then....God Bless!!
CC